BLUE SAFARI MADEIRA offers trips in very small groups, 12 people maximum, to give you an unique and more intimate experience with Madeira's Whales and Dolphins. You will be accompanied on board by our Marine Biologist, to whom you can ask as many questions as you wish.

O

ur boat is a 300 horsepower speed boat, which allows us to move quickly in order to increase our chances of encounters, and to have the animals as close as possible. The manoeuvrability of the boat allows us a controlled and serene approach, while allowing us to be as close as possible to the animals. Our boat is equipped with a very quiet engine for your comfort as well as the one of the cetaceans.

We work with 2  professional spotters on the surrounding areas of Funchal with gigantic binoculars, in order to increase the chances of encounters. We meet Whales and/or dolphins 99% of the time. Our trips are guaranteed, which means that we offer you a free excursion if we haven't been able to observe anything. If you cannot reschedule another trip, you will receive a voucher valid for 2 years.
99% chance of spotting whales or dolphins
Tour in the area with the highest concentration of cetacean of Madeira
Learn about marine mammals
Get your best photographs of these magnificent creatures
Admire the bright green island landscape from the water
Enjoy a boat ride out on the blue ocean
On our trips it may be possible to enter in the water with dolphins (information available on the boat)
What's included
Life jacket (required)
Marine biologist on board
OUR SIGHTING GUARANTEE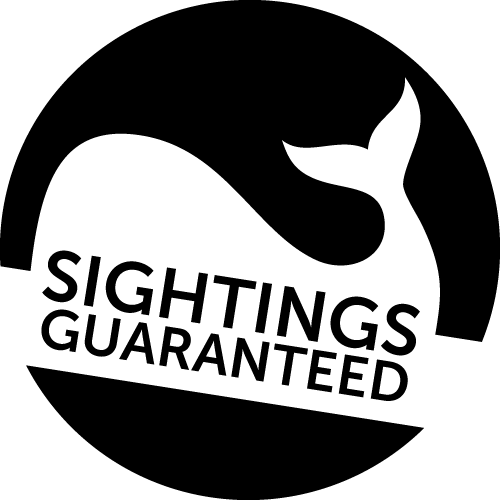 In our Whale watching and Swimming with Dolphins activity, we cannot predict if it will be only dolphins, only whales, or both on a single tour, since we work with wild animals, and their behavior is unpredictable. However, we guarantee to sight at least one dolphin or whale species! If no dolphins and no whales species are sighted during the tour which is extremely rare, the customer will have the possibility of another free tour, or in case of unavailability due to weather conditions, a full refund.
RESPONSIBLE WHALE & DOLPHIN WATCHING
We daily commit ourselves to responsible conduct when approaching whales and dolphins that visit or reside in Madeira, in our Whale & Dolphin Watching activity.